PCS Offers Custom Solutions at ShoreTelOne Global Partner Conference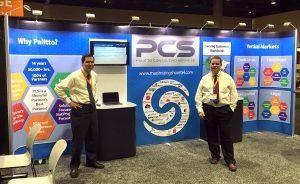 Palitto Consulting Services (PCS) is honored to participate as a Gold Sponsor in the ShoreTelOne Global Partner Conference in Orlando, Florida. Attended by ShoreTel Partners from around the world, PCS's team is on the ground engaging Partners and offering custom software solutions and integrations for this thriving segment of the business communications industry.
Representing PCS at the Conference is Bryon Palitto, who states, "PCS strives to be a world class ShoreTel Partner's best Partner!" Tim Zarkovacki, also in attendance, has lead the team in over 50,000+ development hours, helping hundreds of Partners with their customization needs. PCS helps customers never turn down an integration challenge by providing skilled and experienced experts.
ShoreTelOne.com writes more about the importance of this event: "The world is changing as it becomes more connected. People to people. People to machines. Machines to machines. Thriving in today's competitive landscape requires more than the traditional business communications of the past—today's customers want seamlessly integrated solutions that make interactions simple."
This is just one of the many areas where PCS is serving the needs of our clients. Our experts are available to integrate with your team. We are solution focused, not project focused. Contact us today to learn more.