Everyone Is Working from Home – Here's Your Team's Security Checklist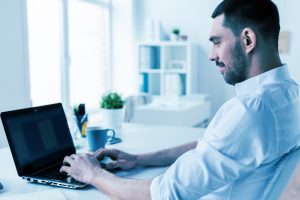 Millions of workers have suddenly had to relocate their offices to their homes because of the Coronavirus pandemic. Working from home brings new challenges to the workplace, such as distractions, technology snafus, resource allocation and the big one – cybersecurity. If your team now has to work from home, get them up to speed with this security checklist to keep company data, devices and other information safe from hackers and unauthorized access.
Create a Dedicated Workspace
The first thing remote team members should do right now is to create a dedicated home workspace. At home, there may be lots of distractions, such as pets and children. Setting up a separate area in the home just for remote work may help reduce potential disruptions and keep workers more productive.
Ideally, workers should try to use a spare room as their home office. If that's not possible, they can turn a bedroom or some other separate area into a temporary workspace. Also, remind family members that the working area should not be used and keep all confidential information protected. Lock work stations when away from work computers.
Separate Work and Personal Devices
Next, remote employees should keep work and personal electronic devices, such as computers and phones, on separate WIFI networks. A guest network can be created to keep the work devices on their own network. WIFI networks should have WPA-2 security and should be hidden. Keeping devices separate helps maintain a more secure digital environment. When possible, use a wired network rather than wireless.
Make certain team members change their default WIFI router passwords and network names. Additionally, staff members should not be using work devices for personal tasks, such as posting to social media, paying bills or shopping online. Nor should they email work information to their personal computers.
Protect Your Passwords
The team needs to also ensure their passwords are strong, complex and secure. Choose multi-factor authentication for more protection wherever possible. Furthermore, it's never a smart idea to keep passwords saved on a device. Staff members should also keep passwords to themselves and never share them with anyone.
Additionally, use a password vault when possible, but make certain that is implemented by a trusted IT resource.
Verify Information
At times, it may also be wise for remote workers to verify information by telephone. If sensitive information is asked for via email from another team member, employees should take the extra step of verifying the request before sending that information back. Today, more people than ever are victims of sophisticated phishing emails that look and sound similar to their company's typical communication. Read our article on this subject to learn more.
Stay Away from Public Wireless Networks
Even though many remote workers boast about the flexibility to work almost anywhere, it's better to stay at home rather than conduct business at cafes and other public spots. Joining a public wireless network while doing work could lead to security breaches and sensitive data transmission.
Update Devices and Software
Another step that all work from home staff should complete is to update all their devices and software with the latest security. Anti-virus software should be a priority and any other patches or firmware updates to the operating system or applications for work should be updated on a regular basis. Outdated operating systems that are no longer supported (such as Windows 7) should be upgraded even on personal computers.
Handling Your Data Securely
Make certain the access to your company's data is secure, preferably through a full tunnel VPN. Again, use multifactor authentication to access this.
When a team of staff members is all in different locations, there also needs to be a plan for backing up essential data. If an automated system is in place, employees should set aside time each week to back up work files.
Disable Smart Speakers
Having devices such as Alexa and Google Home speakers around the house can be convenient. These devices, however, may listen to and record sensitive business information through conversations. For work conversations, it's best to disable smart speakers or work in a place at home where these devices can't hear.
Ask for Help
Finally, employees who are working from home during the Coronavirus crisis may be physically alone, but they aren't truly on their own. If team members need help or technical assistance, they should consult with the organization's tech support team. They should never try to diagnose and repair these issues themselves.
If your team needs guidance on how to implement best practices for digital security at home, contact us today. Give your staff members a plan to keep sensitive information and devices protected while they remote work.